Playing card games has become much more elaborate since the olden days. You can challenge your friends, family, and random acquaintances in card games that have their own sets of decks and rules, some lasting for more than 30 minutes per game. However, it is important to remember the classics as well. 
Now, the question is: where can you play these card games if you don't want to buy them or leave the house? Many people play card games online through gaming platforms and websites. When it comes to gambling, gambling online has become a very popular activity, and many people bet and gamble online with various betway promo codes. We will focus our search on the websites that offer fun card games.
Cardgames.io
One of the websites that focuses on free card games is cardgames.io. They have about two dozen classic card games and a few board games as well. The site prides itself on keeping it simple and for a good reason – some of the joy of playing the game can be lost with downloads, passwords, and numerous other issues. That being said, there are a few downsides to the site.
First of all, there is no multiplayer. You play against yourself or an AI opponent. Secondly, your scores are only stored on individual machines/browsers. Anyone can play without registering, so there is no way of keeping track of personal scores. Finally, while the site has some of the classics like solitaire and hearts, there are no games like poker and blackjack.
Worldofcardgames.com
Another family-friendly site, worldofcardgames.com has 8 games in total. However, you can choose whether you want to register or not, whether you want to play against AI or people and see how many players are playing each game. The bonus is that you can set up your own game and allow or exclude certain players.
Board Game Arena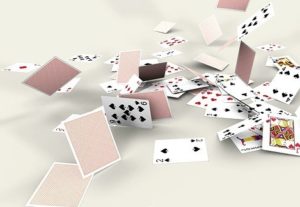 Board Game Arena has over 150 games, though only 52 of them are card games. Out of the classics, you can play French Tarot and Belote, though there are far more complex games available to you, like Libertalia, the game where you try to be the richest pirate of all.
The website offers competitions, forums, and the latest news concerning their games. You are welcome to register and try your luck at getting into the hall of fame or just casually play a game or two every so often. The wonderful thing about the site is that, like the others on this list, it's free.
Gamentio.com
Gamentio.com is a site with a very limited number of games, but with an extra spice added. You can play poker, blackjack, teenpatti, rummy, solitaire, and auctions. Some games are available in 3D, you can register if you wish and some games can be played for money. There is also an app available. However, before you start playing, make sure this is indeed what you are looking for.